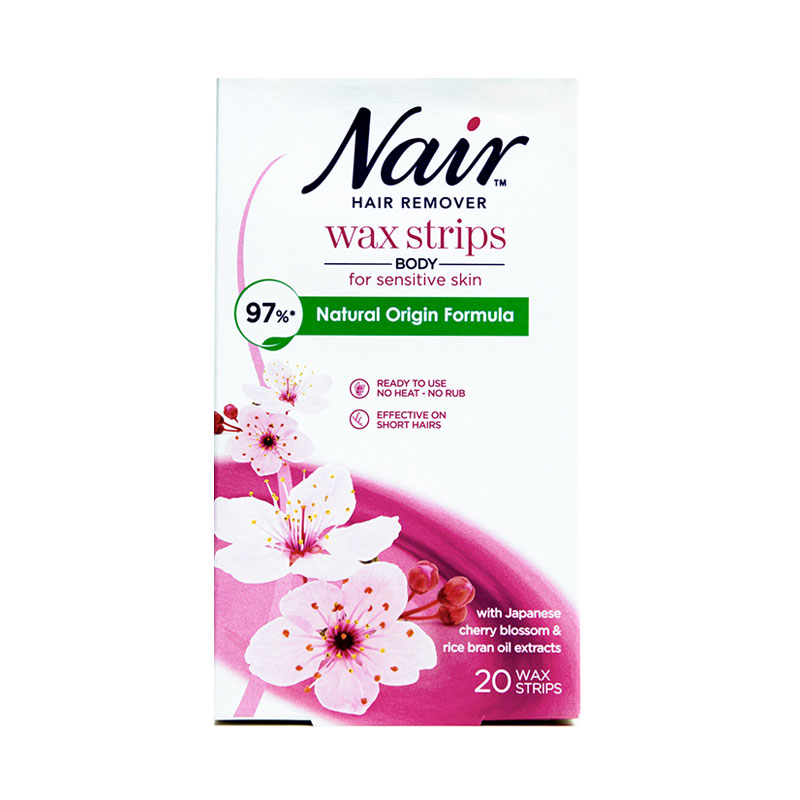 Nair Hair Remover Body Wax Strips With Japanese Cherry Blossom & Rice Bran Oil 20 Strips
Download The MallBD app for IOS and ANDROID
Allows optimum results to remove even short hair from your legs, body and bikini areas without any rubbing or heating required.
Formulated with Natural Japanese Cherry Blossom Oil and Rice Bran Oil,
It reveals the skin beautifully moisturized and smoothes up to 4 weeks, without leaving any residue.
Dermatologically tested.
Made in Spain.
Instructions:
Irritation or allergic reaction may occur with some people, even after prior use without adverse effects. Therefore, a test should always be carried out on a small part of the area to be treated before each use. Follow the instructions and if the skin appears normal after 24 hours, proceed with the full application. Hair length: Suitable for short hair, down to 2mm. Trim the hair before waxing if necessary.
1. Wash the area to be waxed with mild soap and water (do not take a bath). Dry thoroughly. If the climate is hot and humid, lightly dust the area to be waxed with powder.
2. Slowly separate the strips (no need for prior rubbing to warm the wax). Use one single strip at a time. Place the second single strip (folded in half with the wax on the inside) to one side while you are using the first single strip.
3. Apply the wax strip by pressing it down over the hair to be removed in the direction of hair growth (on legs this means from knees to toes) and make it adhere by pressing down firmly with the palm of the hand.
4. Holding the skin taut, quickly pull off the strip in the opposite direction, parallel to the skin, not up and away from the body. Holding the skin taut during wax removal from the bikini area is very IMPORTANT to minimize bruising.
5. The same strip may be used several times until it no longer adheres to the skin.
6. Baby oil can be used to remove any remaining residue.
Warning:
Never reapply wax to the same area within a 24 hour period.
If the skin to be treated is not held taut while the strip is removed, or the strip is not pulled back quickly and close to the skin, a pinching effect may be felt, a wax residue my remain on the skin or worse, skin could be removed, resulting in injury.
Related Products...
People Also Viewed...